'Social kitchen' is a kitchen interior design's trend that becomes increasingly popular lately. The heart of this interactive space is, of course, the breakfast bar. With the breakfast bar, the kitchen evolves from just a place to cook meals into a social setting to welcome family, friends, and new colleagues. Space where some people enjoying some foods while watching the host busy preparing the meals. Breakfast bars create an informal dining spot in a kitchen without taking up extra space for the dining room.
The ideas come in various designs and shapes suitable for almost any home style and available space. Whether you have a small or spacious kitchen, the breakfast bar will "almost" always understand you. Here are 10 gorgeous kitchen design with breakfast bar ideas to help you get inspirations to level up your kitchen. Following 10 Small Kitchens with No Pantry Improvement Ideas published a few days ago, this list is also presented for you by Simphome.com.
10. Trendy Wooden Breakfast Bar Woodblock is the most frequently used material when it comes to a trendy breakfast bar. It is easy to find various sizes and shapes that are suitable for your taste and needs. For example, the square wooden block is great for couples who want something intimate. The slim, longer block is suitable for a big family or a party guy.
Just add simple high chairs or bar stools to serve more people. Use trendy bulb pendants to highlight the breakfast bar. In the picture, the different materials define the food preparation and dining area. A smooth, easy-to-clean surface for cooking and the textured-wooden bar for having meals undoubtedly produce the ultimate social space in your kitchen. 9.
Breakfast Bar with Chiller 2020 has made people make all of their activities at home, no exception for hanging out. With this new definition of going out, some simple changes to your kitchen can make you enjoy your time socializing at home.
This idea will indulge not only adults but also children if you stuff all the space with soda and fruity juices. It is also great to keep all your drinks in one accessible place. Whenever you, your guest, your children, or your children acquaintances feel bored, you can quickly access the cold beverages to loosen up the condition.
8. Creative Curved Breakfast Bar A breakfast bar is versatile. There are many choices of size, combination, and style to fit your size and purpose.
As it is the central point in your kitchen, don't limit yourself with the symmetrical rigid design and be creative. Opt for a curved breakfast bar instead, for example.
Surely, this custom design demands extra work, but once you finish it, I bet it was worth your effort. The curved bar, going around the corner of a room to connect the wall cabinets and the kitchen island, gives the host a closed space to prepare meals. It is multifunctional and not to mention; you can use the outside area to serve other family members or guests to enjoy their meals. 7. Kitchen Island Extension Idea The breakfast bar can gather your family every morning for a few seconds before rushing out and brings together your entire family at night after a long tiring day.
These days, many people are already trying the idea by experimenting with extending the kitchen counter or island. Just add a simple wood plank to the kitchen island to create a table-like piece of kitchen furniture. You can play with the design, stretch out the kitchen island, or make a T shape like the picture. This spot gives your double functions, a great party zone to host your guests, or extra space for prepping meals for the family. 6.
Dynamic Duo Wood and stone are the perfect duos that always be the mainstay in the farmhouse kitchen. Get the rare elegant style and apply it to your kitchen. For the stone, go with the one striking feature by using just one type of stone. Fragmented natural stones are applied onto the wall and one large wooden slab as a breakfast bar top. Choose the cabinets, bar stools, and kitchen islands that are made of woods.
The general rule you must keep in mind is the darker the stone, the lighter the wood should be to produce a perfectly balanced color scheme. Also, Beautiful lighting will highlight your room's elegance greatly.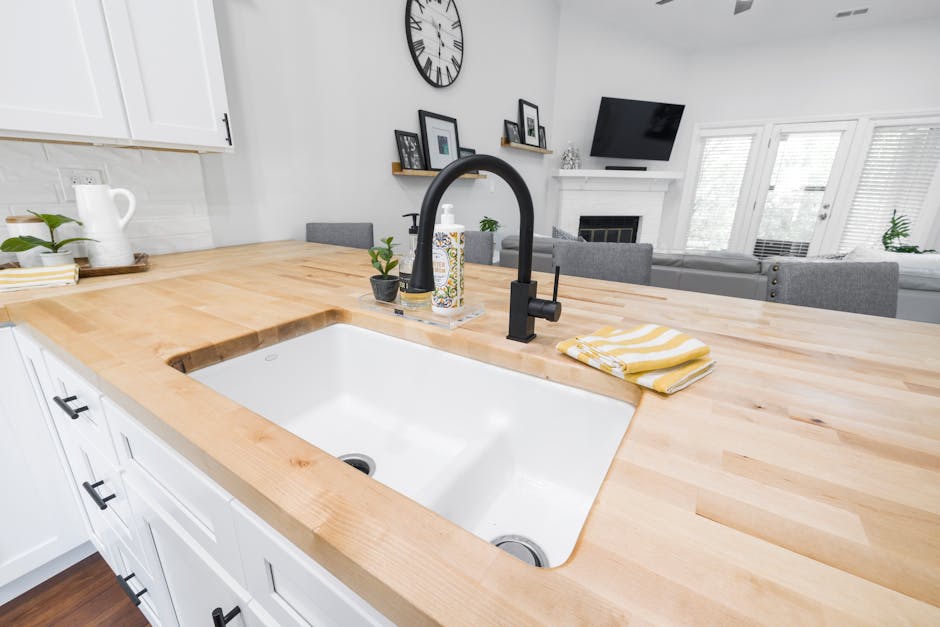 5. The Timeless Black and White Black and white design are timeless. For the kitchen interior, it is impossible to be ignored.
The edgy and versatile color combination nature allows any interesting elements to fit in perfectly. The application of white is not only limited to the wall, but also the tiles selection. You can choose black-colored kitchen appliances or black-and-white cabinetry. The breakfast bar can be made out of a traditional dark wooden board, and that will be a unique pair for your cabinetry. To polish it, use the same colored-wooden stools and black chairs, then tuck them neatly under the breakfast bar.
4. Minimalist Apartment Breakfast Bar Idea If you want to install a breakfast bar in your house, you'll come up with limitless choices. But what if you live in a small apartment and still have a plan to install one? However, there is always be a solution to every problem. First, you can attach a bar top to studs in a wall or a window.
It is undoubtedly an easy, never fail, and non-expensive alternative. To start, make sure you have enough clear space around your kitchen windows to put the bar and also the stools.
Adjust the bar height by considering the height of standard stools; a 42-inch top will work. Next, get all the materials and tools and install the bar go jut out from a window wall. 3.
Glamour Mirrored Glass Idea The modern kitchen style is made more outstanding, with three hanging geometric lamps over the breakfast bar. Next, the owner completed it with all-white furniture from the open shelves, cabinet, and stools, perfectly fit the white wall. The breakfast bar itself is made out of white marble with a transparent glass top. Finally, there you can find a bronze mirrored-glass that adds an unexpected glam note to this breakfast bar. 2.
Brighten Up with the Industrial Style The industrial style is a big hit. Many restaurants or café uses this design because it almost always looks great and is multi-functional. It's also a versatile concept that can be modified to suit nearly any individual personal tastes. Thus, it could be effective to be applied to your kitchen too. One signature of industrial style is the uncovered tubes and pendant light that are hanged over the breakfast bar.
Usually, this style left the floor uncovered where the cement floor receiving only a glossy finish.
But you can play a little bit by rolling out a quilted carpet, however. The yellow wood panel on the breakfast bar and the yellow curtain is the perfect match for the carpet in the picture. It matches the splash of yellow color that brightens up the raw industrial elements. Last, you can see the geometric shelves that become an integral part of the room and the transparent cabinet that become an elegant addition to the design's industrial chic.
Lastly, Number 1.Nautical-themed Galley Kitchen. Nowadays, some people left their big house and moved into a downtown condo, having fun and enjoying the food afforded to them.
Galley kitchen or boat kitchen has now occupied more houses than ever. What makes this fun is the nautical style all over the place.
First, the one-wall galley kitchen arranged everything on one side and only the other side's breakfast bar. The kitchen occupies a white-against-dark color scheme while the wood elements are completed at the butcher-block wood countertops, open shelves, and the beadboard ceiling. One signature element of nautical style is the porthole-shaped window, and you can find it here too. Last, The small door under the window even implies that you can go below decks. One feature that is nicely paired with the flap of the British flag.
Conclusion: You know well that a breakfast bar isn't just a spot to have your meals, but it also has a social value that transforms your kitchen into a gathering room. Also, breakfast bars give you valuable extra storage, allowing you to keep more things and to keep your kitchen clutter-free.
It also provides extra work surface area for preparing large meals as well as serving party food. While on a quieter occasion, you can sit on your bar stool, grab a cup of your favorite beverage, and enjoy the silence!.